The 2016 repeal of an outdated and discriminatory law criminalising homosexuality in Seychelles was a necessary and bold move and should serve as an inspiring example to other Commonwealth countries, says a new report.
Section 151 of the Seychelles Penal Code, a British colonial law reflecting attitudes of the Victorian era, which criminalised consensual same-sex intimacy between adults, was inherited when Seychelles became independent in 1952 and was removed from the lawbooks in May 2016 by the country's National Assembly.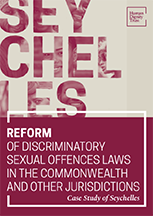 A new report, entitled Reform of Discriminatory Sexual Offences Laws in the Commonwealth and other Jurisdictions – Case Study of Seychelles, is released today by the Human Dignity Trust and contains in-depth analysis on how the reform was successfully achieved.
Téa Braun, Director of the Human Dignity Trust, said, 'Seychelles is one of very few African countries to take concrete steps to repeal these discriminatory laws. Other Commonwealth countries, many of which continue to criminalise their own citizens because of who they are or who they love, have much to learn from the Seychellois reform journey.'
The report provides a step-by-step analysis of how the reform was achieved and finds that the revision of the law in Seychelles was the result of a combination of factors, including genuine political will. A conducive social environment created through the hard work of local LGBT and human rights organisations, with the support of the legal profession and aided by international dialogue and favourable media coverage, was also crucial in bringing about the long overdue change.
Importantly, the report concludes that constructive dialogue with faith leaders, in what is a deeply religious society, was also key to bringing about reform.
Although Section 151 was rarely enforced, the existence of the law contributed to the stigmatisation of LGBT people, discouraging them from seeking testing and treatment for HIV for instance.
Fabianna Bonne, Chairperson of LGBTI Sey, said, 'Decriminalisation has reduced barriers for LGBT persons in Seychelles and facilitated access to health and other services. Civic engagement has also prompted national dialogue on a taboo topic. However, whilst the removal of laws that hinder human rights and effective citizenship is a positive step, this must not distract us from the fact that much remains to be done to achieve equality.'
'We must continue these discussions to ensure that we move towards inclusion, such as effectively addressing hate crimes and hate speech, introducing legislation prohibiting discrimination on all grounds, including sexual orientation and gender identity and expression, and recognising the rights of transgender people,' added Bonne.
Discriminatory sexual offences laws continue to impact the lives of many Commonwealth citizens, particularly affecting women, children, and LGBT people. 35 Commonwealth jurisdictions criminalise consensual, same-sex sexual activity between adults.
'These laws are at odds with international and regional human rights standards, as well as domestic constitutional law. They perpetuate violence, hate crimes and discrimination, threaten the health and prosperity of whole societies, and no longer have any place in modern, democratic societies,' said Braun.
Notes to editors
The Human Dignity Trust works with LGBT activists around the world to defend human rights in countries where private consensual sexual activity between adults of the same sex is criminalised. We link the international legal community with local organisations

 

that

 

are challenging laws that persecute people on the basis of their sexual orientation and/or gender identity.
Reform of Discriminatory Sexual Offences Laws in the Commonwealth and other Jurisdictions – Case Study of Seychelles

 

can be downloaded on

 

the Human Dignity Trust's website

 

and forms part of a series of case studies profiling these legislative reform journeys around the world.
Visit the Trust's

 

interactive map to see which countries across the world still criminalise LGBT people.
 For more information contact:
Emma Eastwood, Head of Strategic Communications, HDT
T: +44 (0)20 7419 3770 / E: emmaeastwood@humandignitytrust.org / Twitter: @HumanDignityT
Fabianna Bonne, Chairperson of LGBTI Sey