In celebration of LGBT History Month, the Human Dignity Trust (HDT) has launched the first digital timeline of the history of criminalisation of LGBT people.
The new timeline recounts over 500 years of outlawing LGBT people, with a special focus on the history of colonial criminalisation – from the introduction of the first civil 'Buggery Act' in Britain in the 1500s, through to the decriminalisation of same-sex activity in Botswana in 2021.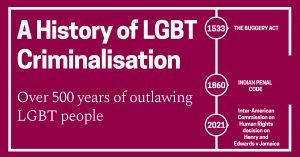 HDT's unique timeline traces in particular the evolution of the specific forms of criminalisation that originated in Europe, first under religious laws from the Abrahamic faiths, and then under secular legal codes.
As colonial European powers expanded their control and influence over much of the world, they also imposed their laws criminalising LGBT people on diverse, local, indigenous traditions, where same-sex activity and gender nonconformity did not always carry the same social or religious taboos as European society at the time.
The timeline also details the huge advances made in favour of justice for LGBT people in recent decades.
The legacy of colonial-era penal codes looms large today, with over 70 jurisdictions around the world still criminalising consensual, same-sex relations. Around half of them are former British colonies and members of the Commonwealth.
Notes to editors
The Human Dignity Trust is the only organisation working globally to achieve a world in which LGBT people are free from criminalisation and enjoy the protection of the law. By mobilising pro bono support from the world's leading law firms, we unlock millions of pounds' worth of free legal advice for LGBT activists across five continents.
Visit our interactive map to see which countries across the world still criminalise same-sex activity.
For more information contact or to arrange interviews with the Trust' Chief Executive, Téa Braun:
Nafisa Dahir, Communications Officer, HDT
E: [email protected] / Twitter: @HumanDignityT
#LGBTHM22