In November 2021, we celebrated 10 years of defending the human rights of LGBT people and challenging and changing laws that persecute people on the basis of their sexual orientation or gender identity. To mark the occasion, we reflected on our key achievements in a new report, Defending Dignity: A Decade Championing the Rights of LGBT People, and examined the pivotal role we have been honoured to play in the global movement towards decriminalisation. We also premiered a short film exploring our origin story and created a new digital timeline for users to learn about key events in the 500-year-long history of criminalisation and decriminalisation of LGBT people.
During the last decade, we've supported 19 cases in 16 jurisdictions across all regions of the world,  impacting the lives of millions of LGBT people.
Our core objective in this past decade has been to materially support the decriminalisation of LGBT people and related legal issues globally. Whether by direct challenges, or through related litigation that advances the recognition of LGBT human rights. We have helped advance freedom of expression, freedom of association and protection against degrading treatment. We tested the legal understanding of freedom of expression and helped secure a landmark judgment finding that this fundamental right includes sexual expression with a person of one's choosing. We even made the unique argument that a constitutional prohibition on 'sex' discrimination includes 'sexual orientation' discrimination and won.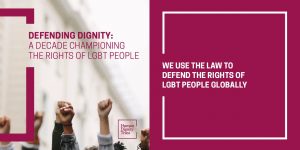 The Trust made ground-breaking case law for lesbian and bisexual women by securing the first-ever legal recognition that even in countries where women are not technically captured by the criminal law, their rights are directly violated as members of the wider LGBT community who experience stigma, discrimination and violence as a result of these laws. We also filed the first-ever case of its kind under the UN Convention on the Elimination of all Forms of Discrimination against Women seeking to establish that criminalisation of lesbian and bisexual women, a reality in 60 percent of criminalising jurisdictions, violates that almost-universally ratified treaty. And we secured the first-ever decision of its kind finding that anti-LGBT criminal laws violate the American Convention on Human Rights.
Our work has evolved significantly during this first decade, from courtroom advocacy to our newer legislative reform programme, through which we support governments on request to review and reform discriminatory sexual offence legislation and enact protective laws. We're incredibly proud and encouraged that in just three years we have helped four governments draft five new bills that hold the promise of stronger legal protection for LGBT people as well as other marginalised groups including women, children and people with disabilities.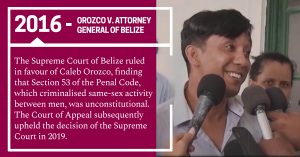 Recognising the importance of shifting public attitudes, we have also developed a sophisticated communications function. We now provide everything from media training to full-scale public education campaigns in support of legal change. Alongside this, we have built up an authoritative suite of research publications and digital tools on the topics of decriminalisation, human rights compliant sexual offence legislation and hate crime laws.
All of these building blocks and successes will enable us to offer a deeper range of bespoke and holistic technical support to our colleagues worldwide in the years to come.
Much work remains to be done. LGBT people are still criminalised and stigmatised, ostracised and abused, in too many countries. Nonetheless, we can take heart from the overall narrative arc of the past decade: it bends decisively towards justice.